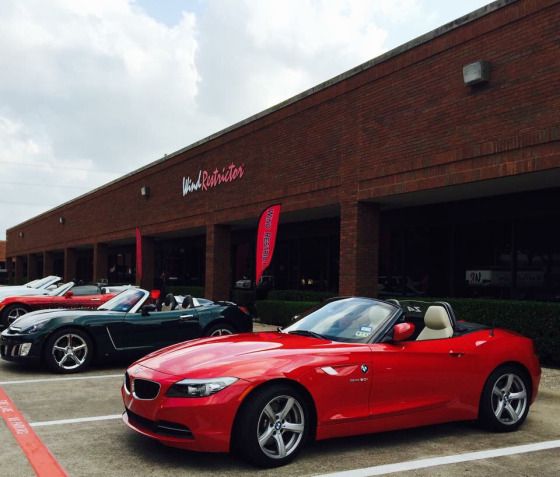 Lighting Accessories for a World Class Product
Over the last few years I've had the pleasure of working with many thousands of our customers either in person, over the phone or through the exchange of emails. I would guess that over 75% of these now valued customers asked me to elaborate on the options and accessories we have available for our premium Windrestrictor® Brand convertible wind deflectors.
Our wind control systems, even the basic crystal clear, non-lighted versions are highly functional and provide a huge benefit to convertible owners. Here are some of the main features and benefits of our definitive brand wind blocking devices.
-Reduce wind buffeting and turbulence that creates driver fatigue at highway speeds
-Enjoy better clarity of sound from your stereo system and carry on conversations better in the cabin while your top is down
-Unparalleled quality and craftsmanship
-State of the art designs by professional engineers
-See clearly out your rear-view mirror through our transparent surfaces unlike other black nets or cloudy plastic models available on the market
These are all wonderful benefits our products offer but what our company is really known for is being the first in the world to develop a truly personalized wind deflection system for fine roadsters and convertibles around the world. Windrestrictor® is a registered trademark of King Penn Industries Inc., located in Dallas Texas.
We offer standard graphics as well as personalized designs created by a graphic artist with our wind blockers. These images are engraved into the surface of the products utilizing the finest Photo-Realistic laser engraving technology available today. We also offer custom designed Ambient LED systems in multiple colors that produce a rare fiber-optic lighting effect to the edge of the glass and the graphics.
Each standard lighted wind deflector order will come with everything needed to install the product using the brake light power or running light power wire in the vehicle. There are no accessories at all needed for this basic installation although I suggest reading up on some of our bells and whistles!

Color Changing Optional Accessory

The "Extreme Lighting Kit" or ELK for short allows you to choose between a variety of static colors at any given time. You can select red on the remote control one day and green or blue the next day depending on your mood. There are eight colors in total to choose from along with some fancy fading and blinking features. There is also a built-in intensity control so if you order the ELK there is no need to order the dimmer control or on/off switch. This is a great accessory for those of you that enjoy attracting a lot of attention to your exquisite convertibles or for those that frequent car shows. We recommend installing this accessory on a constant "always on" 12V wire in your vehicle if you'll be utilizing this accessory while your vehicle is off, for example at an evening car show. The normal suggested installation is to the running light power wire or simply by utilizing the 12 V plug option if you prefer not to hard-wire to the vehicle. We send a diagram and printed instructions along with all of our accessories and we are available for assistance if you run into anything at all. Here's a demo video of this accessory installed on a Crossfire Roadster!
Demo Video of ELK and wind deflector in action!
Glow Module with Patented Ghosting Technology (Formerly BLM Brake Lamp Module)
The Glow Module is our newest release and it was an upgraded re-design of our classic Brake Lamp Module. Like the BLM it gets power from the brake system and the running lights simultaneously and you are able to adjust the power levels independently. This technology allows the wind deflector to act as a third brake light. Most owners choose to have the product set at a mid-level glow while driving and then have the product kick up to full intensity along with the brake lights when the brake pedal is pressed. The new design incorporates a few additional features including the ghost feature, patented, allowing for a unique breathing effect of the wind deflector after the pedal is released. Unlike the ELK the Glow Module must be hardwired directly to the brake system as well as the running lights. This process is fairly simple and again we provide step-by-step instructions for each accessory. Finally, The accessory comes with a built in 9 V battery pack that is also very useful for car shows. Here's a video highlighting some of the features of this newly designed accessory.
Glow Module Demo
Dimmer Control Switch
For those that choose the lighted wind deflector but do not pick up the ELK or the glow module you may want to consider the dimmer control switch. You will not need this accessory if you do choose one of the first two because they both have a built-in dimmer. This add-on comes with a remote control that will enable you to adjust the lighting intensity as well as turn the unit on and off. This remote is small, black and comes with a key-chain connector. It is smaller than the average key fob. I usually recommend this accessory as a bare minimum and it happens to be one of my personal favorites. It's simple, it's cost efficient and for those of you that don't particularly care for hard-wiring to your vehicle you can even use this along with the 12V Adapter Plug. The reason I say bare minimum is because If you are driving down a back road or a street without a lot of street lamps present you may want the ability to turn the product off. It's so convenient to be able to pick up the remote and turn the product off at any given time while you're driving.
On/Off Push Button Switch
This basic accessory is pretty self-explanatory. The Button switch will be installed on the power wire and then normally hooked to the running light wire or a 12V constant. Once the power is hooked up you will be able to simply press the button to turn the product on and off. You will either need to drill a hole to mount it somewhere in the vehicle or like with the Saturn Sky and Pontiac Solstice there may already be a hole present in one of your panels that you can mount it in.
12V Adapter Plug
Pick up this accessory if you do not want to do any hard wiring in your vehicle. By "hard wiring" we mean making a connection directly to a harness inside your vehicle usually located behind a carpet panel. We provide small red vampire clamps with every lighted order that allow you to tap into the power wire without splicing or cutting. Tapping into a 12 V wire inside your vehicle will not void any warranties or do any type of damage at all to your vehicle. In fact it's fairly simple and we provide detailed instructions on how to do it along with photos in every order. Some of you will still prefer this accessory because it allows you to get power by simply plugging the adapter into your dash, console or anywhere else there is a 12V socket in your vehicle. This product will give you easy power for the ELK or the dimmer control switch as well. It cannot be used with the Glow Module.
All of the Bells and Whistles
A great number of our customers choose to get all of the bells and whistles that we offer. This obviously will give you the best product experience that we have to offer and we love working on these orders that are truly personalized. However, we do want to let you know that if you do want the best we have to offer then you will only need the ELK and the Glow Module. These two accessories have everything that you will need built in. There is no need for the dimmer, the 12V plug or the on/off switch if you get these first two premium add-ons.
I hope that these details will help you make a decision about which options you would like along with your product. If you have any questions please feel free to email me personally here
[email protected]
or give me a call at the office 972-487-5987 X5. Or, if you would like you can visit us at our new facility in Dallas. 11885 Forestgate Dr. Dallas, TX. 75243
SLK 170 order page:
http://www.kingpennindustries.com/WindR/WRproductDetail.aspx?wrid=4
SLK 171 order page:
http://www.kingpennindustries.com/WindR/WRproductDetail.aspx?wrid=5
SLK 172 order page:
http://www.kingpennindustries.com/WindR/WRproductDetail.aspx?wrid=15