·
Registered 2002 SLK32 AMG
[Mod Note:- Later photos have been replaced. See post 9 onwards. Myk]
As the title states, I may have gone a bit off the deep end: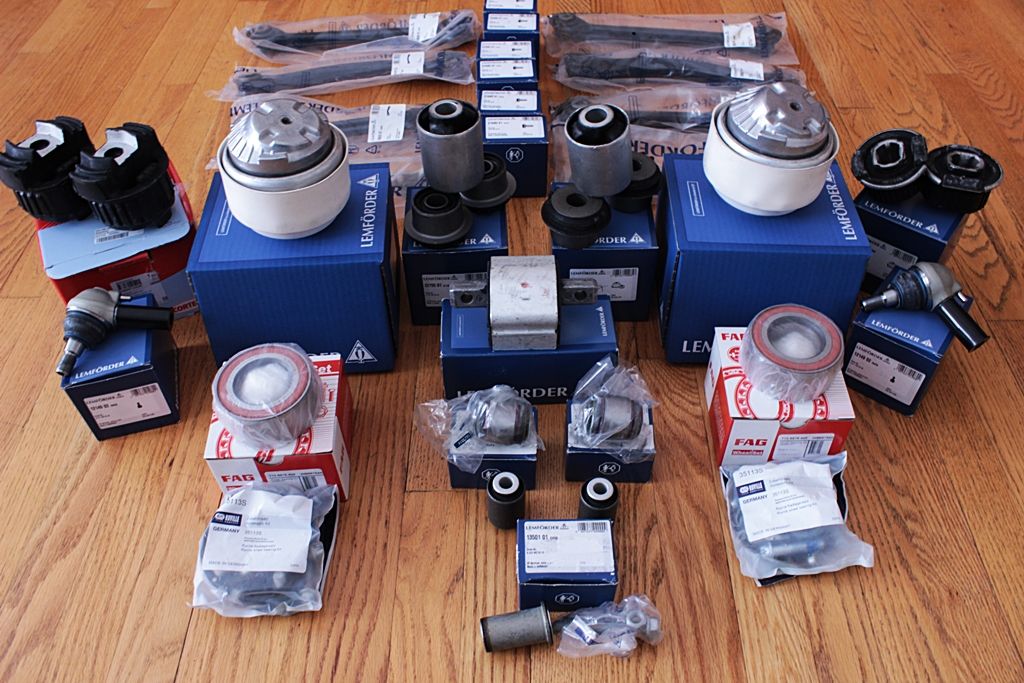 This is the beginning of a project I've wanted to start for awhile now. My SLK32 is now 15 years old, and in my opinion, has more than earned a complete refresh of it's suspension and steering components, as most all of these parts are original, and as we know rubber does indeed fatigue and degrade and isn't always obviously bad. I have hand-picked the absolute best replacement parts I can find, as I'm not about to cut any corners in this. I want my beloved 32 to last forever, and this is all a part of it.
Be warned though, this is a very expensive affair in parts alone, so don't be surprised if you end up well over $1k, or even closer to $2k just in parts and specialty tools. I also will recommend RM European as an excellent source, they have pretty much all of this and at the best possible price. I will also replace all 4 tires, refinish all 4 wheels, and do a proper alignment at the end of this. Expensive affair indeed.
What I hope to do in this thread initially is to gather interest into what, if any, DIY writeups my fellow R170 owners would like to see that you have not so far. If there is enough interest, I hope to provide a detailed writeup for any of these components replacement. I will be tackling all of this by myself while on vacation in one big hit, but it will be a few weeks before I can start.
So... The list as pictured:
*Rear Suspension*
Lemforder Rear Support Arms- PN 29630 01, Qty 2
Lemforder Rear Camber Arms- PN 29631 01, Qty 2
Lemforder Rear Thrust Arms- PN 29629 01, Qty 2
Lemforder Rear Tie Rods (incl. hardware)- PN 10978 01, Qty 2
Lemforder Hardware Kits- PN 21685 01 Qty 6
Lemforder Rear Outer Control Arm Bushings- PN 34756 01, Qty 2
Lemforder Rear Inner Control Arm Bushings- PN 11021 01, Qty 2
Lemforder Forward Rear Subframe Mounts (incl. hardware)- PN 10979 01, Qty 1
Corteco Rearward Rear Subframe Mounts- PN 80000023, Qty 1
FAG Rear Wheel Bearing Kit (incl. hardware)- PN WB66754K, Qty 2
*Front Suspension*
Lemforder Lower Ball Joints- PN 12149 02, Qty 2
Lemforder Lower Control Arm Bushing Kit (incl. hardware)- PN 22755 01, Qty 2
Lemforder Idler Arm Repair Kit (incl. hardware)- PN 13501 01, Qty 1
*Engine/Trans Mounts*
Lemforder Engine Mounts- PN 25407 01, Qty 2
Lemforder Transmission Mount- PN 33875 01, Qty 1
*What isn't pictured because it's on the way*
Lemforder Complete Steering Linkage/Tie Rod Assembly- PN 21672 01, Qty 1 (UPS has actually lost the package on this one, so hopefully this gets sorted soon!)
Lemforder Upper Control Arms w/Ball Joints- PNs 21749 02 (left) 21750 01 (right), Qty 1 ea.
Mercedes-AMG OEM SLK32 Front Shock Absorbers- PN 1703200430, Qty 2
Mercedes-AMG OEM SLK32 Rear Shock Absorbers- PN 1703200231, Qty 2
Michelin Pilot Sport A/S 3 Plus Tires, Qty 4
*What has been completed already and is pertinent to the above*
SKF Front Wheel Bearing Kit- PN WKH1498, Qty 2
Stabilus Steering Damper- MB PN 1244630432, Qty 1
Hopefully I haven't forgotten anything. Feedback is very welcome, and is actually the purpose of this thread.
So, am I a madman? :grin: