·
Premium Member 1999 SLK230-sold
Discussion Starter
•
#1
•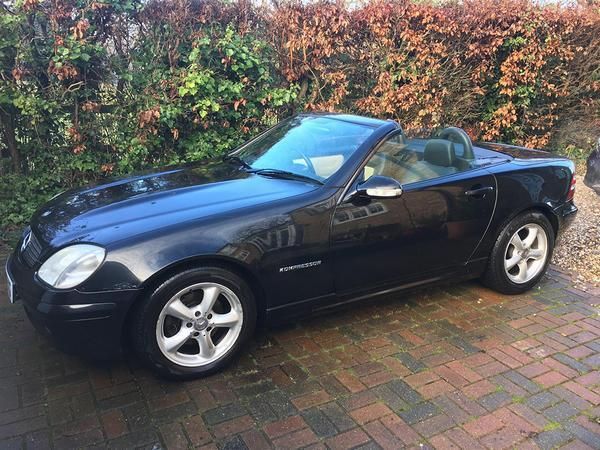 Looks pretty good too me. :smile:
Here's why you really could be tempted by a ShedLK.
Vehicle Description
2002 230SLK auto, black, with black/tan contrast interior. Only 63k milees
Facelift model with electric seats, cruise control, electric hardtop roof that works perfectly.
Mot until end Sept 2017 and serviced by me less than 200 miles ago.
Registered March 2002. Some paper work including receipts for work done prior to my ownership and bill of sale back in 2003. Two keys.
Now that's the nessesary bits sorted out let's cut to the chase!
Bottom line, I bought this SLK back at the end of the summer as a run around to replace a Discovery that I had been using previously. Never got round to selling the Discovery and it was to useful to get rid of so ended up with two "station cars". The SLK had its problems but I was happy to tinker and sort them out over time but now I just can't be bothered and I have other car priorities.
Body wise it is just like every other cheap SLK with rust around the arches, the boot lid and one wet headlight. A number of bumps and scratches but looks great from 20yards as they all do! Interior is good other than the usual flaking of the paint on the centre consol. The electric leather seat are in great condition. Engine wise the car runs well and the supercharger blows well. Drivetrain is good with no clunks or bangs and gearbox changes smoothly. wheels are scruffy but tyres are good.
Frustrating problems are the warning lights on the dash. Rather than cover them over with black tape and ignore them I have persevered to try and get the engine light to stay out to no avail.
Error code is P0101 Air mass flow issue that I have looked to sort by a number of methods (new maf, flushing through the intake and intercooler, cleaning the wiring from cam solenoid to the ecu, etc.) but still it will come on within 20 miles. Now one of the speed sensors has given up the ghost and the ABS and BAS ESP light is on (P0500)
Sure you could get things sorted if you have the time and inclination or just run it as it is as the engine light makes no difference to the way the car drives.
If you fancy a cheap mot'd SLK that you can make good for the summer then this could be for you. It would be a shame to see it go to the scrappy!
here is was Piston Heads had to say.
Shed Of The Week: Mercedes-Benz SLK | PistonHeads