Discussion Starter
•
#1
•
470 miles, 17 hours, two ferries, and one radiation alert.
Yesterday we nipped over to Belgium for the day, our annual tax-busting tobacco run. We've been hopping back and forth over the channel for years, mostly on the bike, but were really looking forward to giving our new baby a good test.
We left home at 5.30am, roof down, and had a comfortable, trouble-free drive down to Dover. Collected our tickets, and headed round to queue up for the ferry.
Now, in all the years we've been popping back and forth we've never been pulled over for a customs or security check, but yesterday, they waved us and half a dozen other cars over to one side. Chap comes across to us.
'We just need to see what you've got in the boot'
'Well, roof, mostly!'
He looked a bit confused, so I hopped out of the car and opened the boot. He laughed, waved us on, and wished us a good day.
One boring ferry ride later, we arrive at Calais and quickly cover the few miles to Adinkirke, just over the Belgium border. Shopping done, and with plenty of time to kill before the ferry home, we decide to amble back along the coast. Stop at Bray-Dunes for a walk along the front, to take a few pics and have an ice-cream, then, having seen signs for a fortified village, we head inland to Bergues.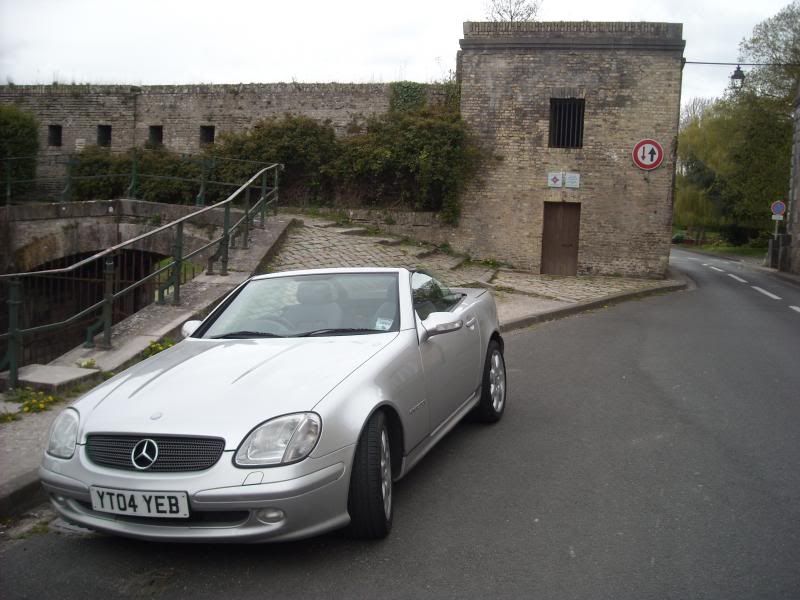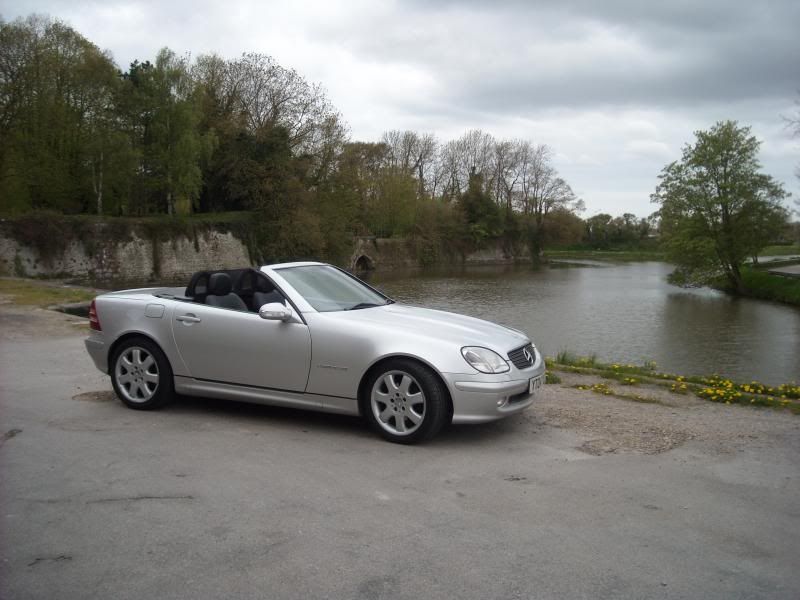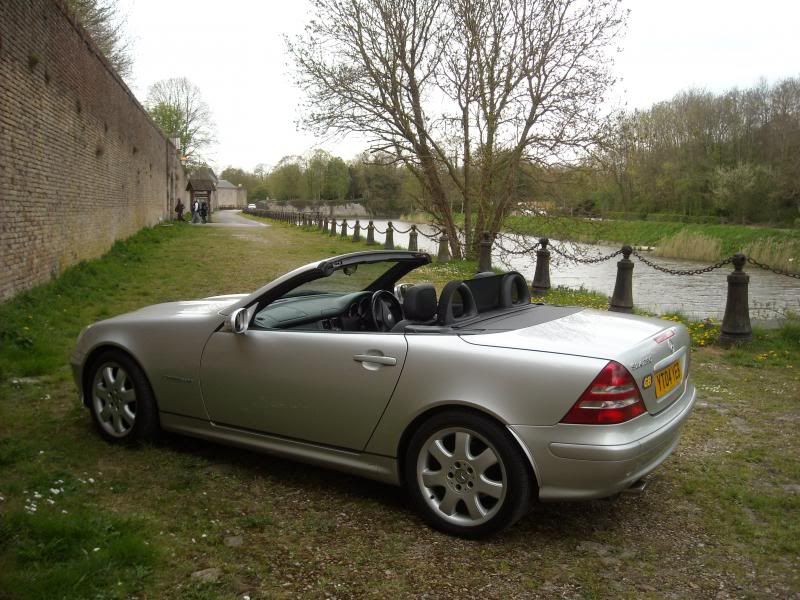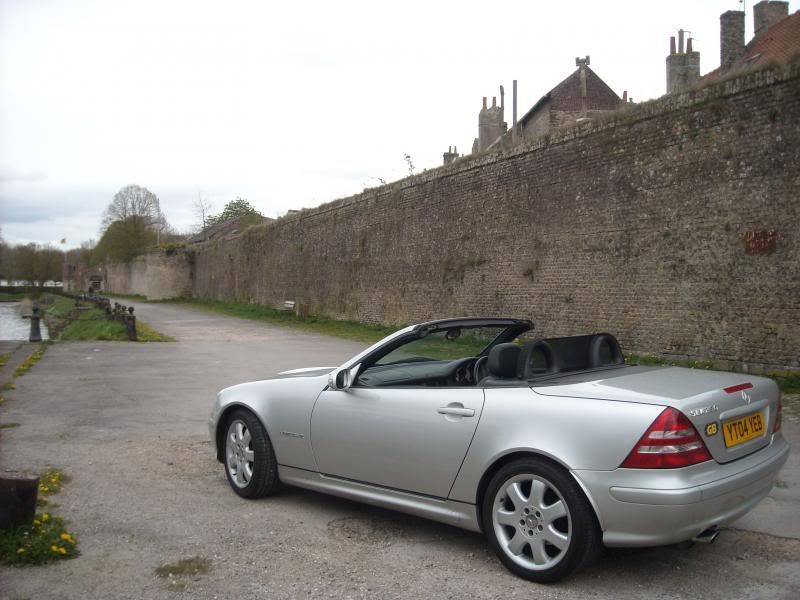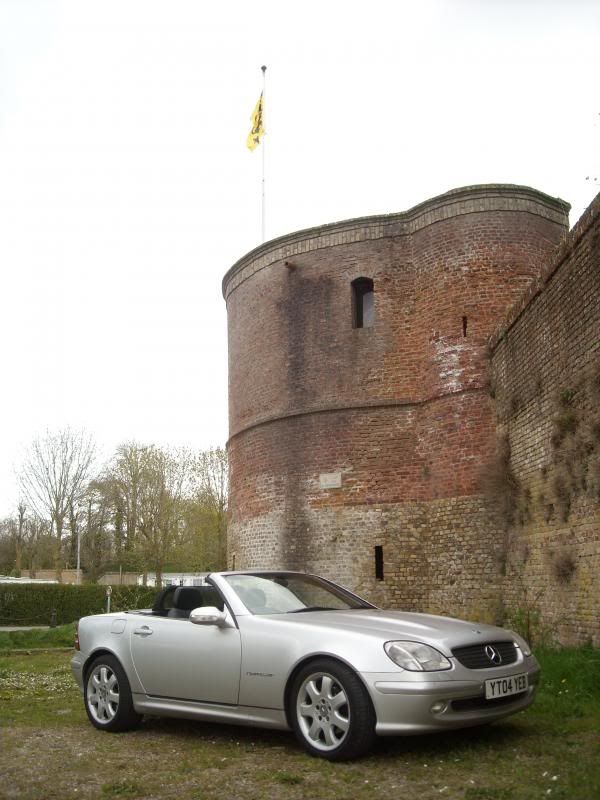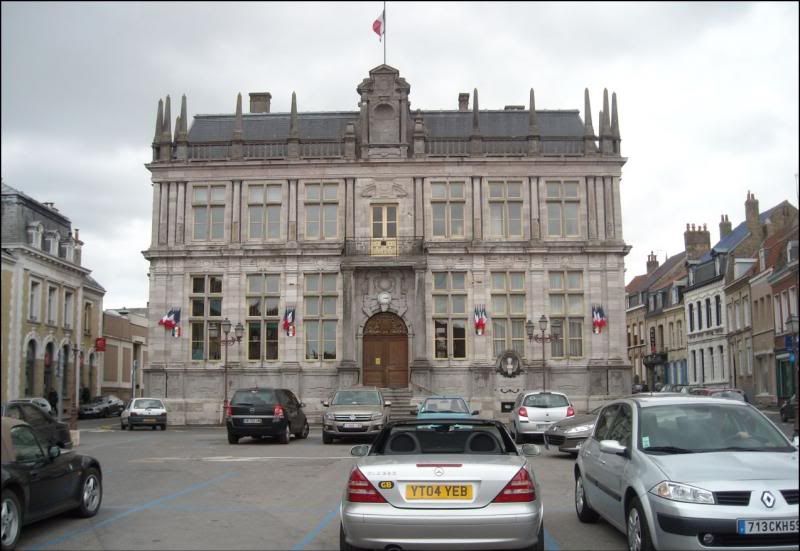 Paid our respects at the War Memorial.
Bergues is a fantastic place, well worth a return visit.
So, time getting on, we head back to Calais and the ferry home. The second boring boat ride over, we head for the exit. Now, remember I said we'd never, ever been stopped for either security or customs. Security stopped us going out, and now...you guessed it...we were waved aside at customs. Not just stopped, mind you, waved into an enclosed area!
Sat in the car, slightly bemused, we were approached by two customs officers, one holding a box which began clicking madly as they approached. Yes, it was a geiger counter! We had triggered the radiation detectors. Was it a case of 'less SLK, more WMD'?
I hasted to assure you that neither Pete nor I am a mad scientist, a terrorist, or any other kind if 'ist'. Pete had radioactive iodine treatment in March for an over-active thyroid, and it seems he is still emitting enough Gamma radiation to set alarm bells ringing. Once the facts of his treatment were explained, we were allowed to leave.
Uneventful journey home, still chuckling now and again about Pete being 'Mr Nucleur', we finally got home 17 hours after we left. Car was fantastic, we had the roof down all day, and that trip certainly cemented the love we have for our new baby.