·
Administrator 2009 SLK 55 AMG/Founding Member 2006
Discussion Starter
•
#1
•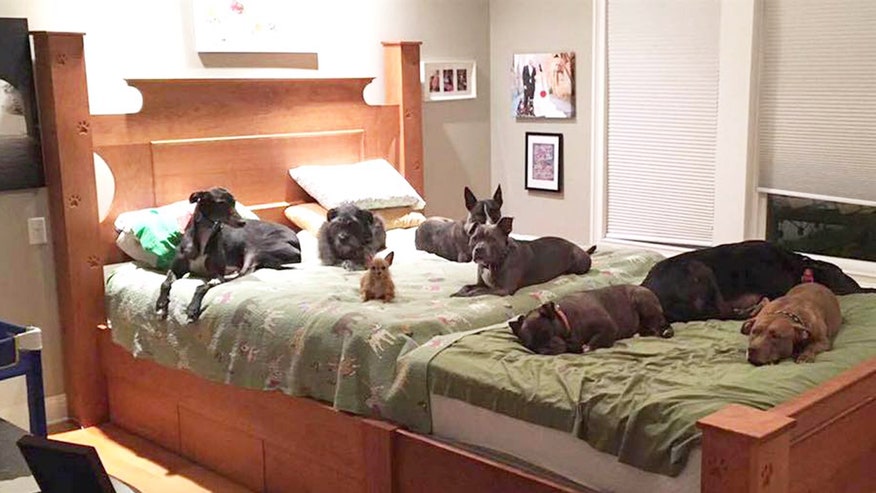 Many dog lovers can't get a good night's sleep without their prized pet by his or her side.
But for Mariesa and Chris Hughes of Clifton Park, New York-- who run a dog rescue organization– nighttime cuddling with their beloved animals posed a major challenge. The couple own eight rescue dogs—many of them seniors with mobility problems—and they wanted a bed big enough to comfortably fit the whole brood, which includes Mabel, Gremlin, Meatball, Tejas, Money, The Stig, Sam and Quinn.
The Hughes posted a help wanted ad on Thumbtack—an online network that connects professionals to those in need of anything from carpet installation to wedding planning.
Mike Ford, a field service technician by day who owns a small handcrafted furniture business in Feura Bush, N.Y., responded to the ad.
"I'm a dog lover myself and I absolutely love senior dogs. When they approached me about the project we had just put down our senior dog Bailey about five months ago, so this really struck a chord," Ford told FoxNews.com.
The Hughes, who have been married for three years, run a rescue for senior dogs called The Mr. Mo Project, named after their late dog Moses who died two years ago.
"They [Mariesa and Chris] came up with the idea of putting two beds together and, after looking at different arrangements, I came up with the idea of how to position them in a way together that really worked," says Ford, who went to cabinet making school and served as an apprentice to furniture maker in Chicago years ago.
The super-sized sleeper, which took Ford four weeks to create, consists of one king size bed positioned "in the usual way," with a full size bed oriented horizontally at the foot of the bed to maximize lounging space for man and man's best friend. The headboard, posts and exterior panels are all made from solid cherry wood. Ford further customized the 14-foot bed by adding drawers for extra storage and steps to make it easier for the senior pooches to climb in for a cuddle.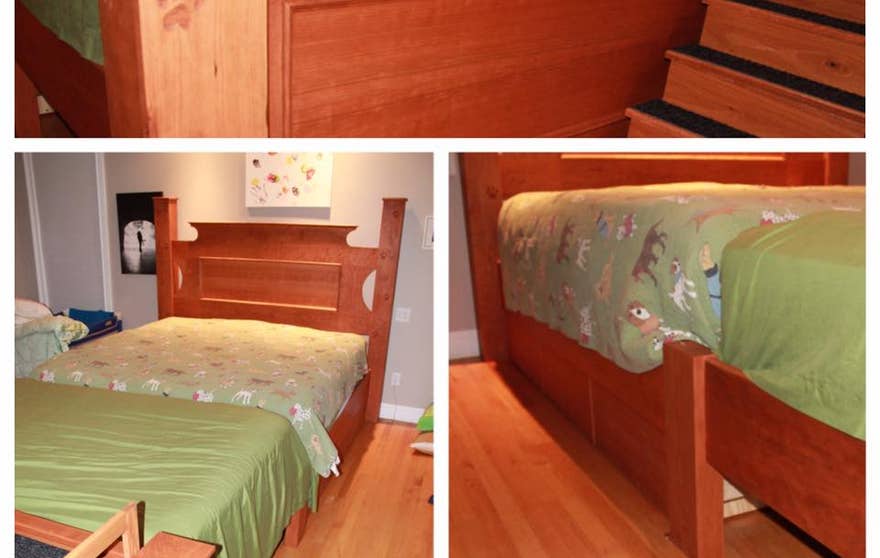 Plus, Ford was able to add a few very special personal touches to the woodwork.
"Before Bailey passed, the vet gave us a clay cast of his paw so I used that mold to hand carve his paw on the bed post," says Ford. "It's a nod to my wonderful dog and I think Marisea and Chris really liked it."
Since the story of the bed started going viral, Ford says he's been approached by dozens of people all over the country about crafting extra-large custom beds so they can sleep tight with their four-legged friends.
"I absolutely love the work and I'm really proud of the piece," says Ford. Now he's just looking for the next canine lover with an eye for fine craftsmanship.