Jae's SLK Build Thread
I figured it was a good idea to organize all my mods into one thread. I had one previously, but for technical reasons, my Photobucket account had to be moved and recreated, breaking all the image links. Instead of trying to surgically replace them all in the old thread, I asked the admins to delete my old one so I could create a new, more organized one.
Table of Contents
(organized by mod, chronological order):
1. Initial Purchase (this post)
2.
Repaint
3.
Interior Restoration
4.
Headlights
5.
Rollbars
6.
18" AMG Wheels
7.
Lowering DIY
8.
Performance Mods
9.
Eisenmann Race Exhaust
10.
Brake Rebuild DIY
11.
Removing Front Calipers, Rotors and Brake Lines DIY (Part 1)
11a.
Removing Front Calipers, Rotors and Brake Lines DIY (Part 2)
12.
Removing Front Shocks DIY
13.
Removing Rear Calipers DIY
14.
Removing Rear Shocks DIY
15.
Replacing Missing Fog Light Access Cover DIY
16.
Instlling New Bilstein Sport B8 Shocks DIY
17.
Installing new Stoptech Cross-Drilled & Slotted Rotors DIY
18.
Powdercoating the Calipers
19.
Replacing Worn Sway Bar Bushings (Front) DIY
20.
Reassembling the Calipers DIY
21.
Plasti-Dipping Wheels and New Tires
22.
Bleeding the Brakes DIY
23.
Wheels back on the car and on the ground, finally! (finished shots)
24.
Replacing Throttle Position Sensor (Error Code PO123) DIY
25.
Changing SLK32 Supercharger Oil DIY
Working on these currently, will update on this thread as I get these completed.
26. R170 Squeaky Roof Lubrication Fix DIY - COMING SOON
27. Roof Leaky Hydraulic Removal and Rebuild DIY - COMING SOON
28. New Carbon Fiber Interior Wrap - COMING SOON
Here's how this project all began:
May 2010 - My mind started turning about purchasing a R170 SLK. Looked for a yellow 32, but couldn't find one in good enough condition cosmetically or mechanically.
June 1010 - Decided to buy a mechanically sound 32, in any color, with the intention of repainting it to yellow as soon as I got it.
July 2010 - Found one in Fort Lauderdale, FL. Roadtripped down with two friends of mine after work on a Friday to check it out. I ended up buying it the following weekend.
Brought her home to Daytona Beach, and visited the Mercedes dealer the very next work day to get a diagnosis: Here she is at the service bay in 99% stock form:
(I believe the only mod the previous owner installed were whiter headlight bulbs)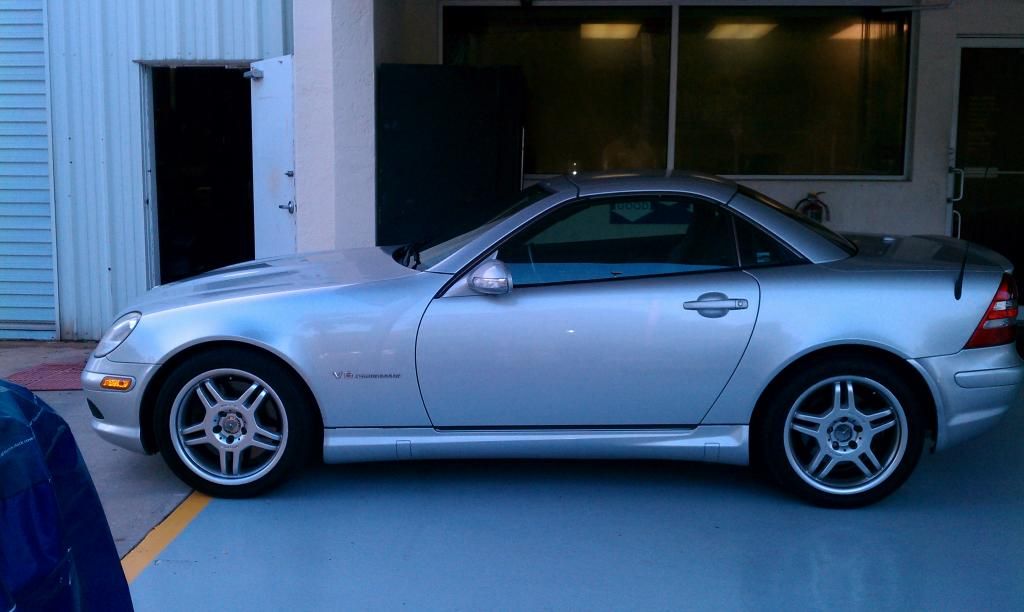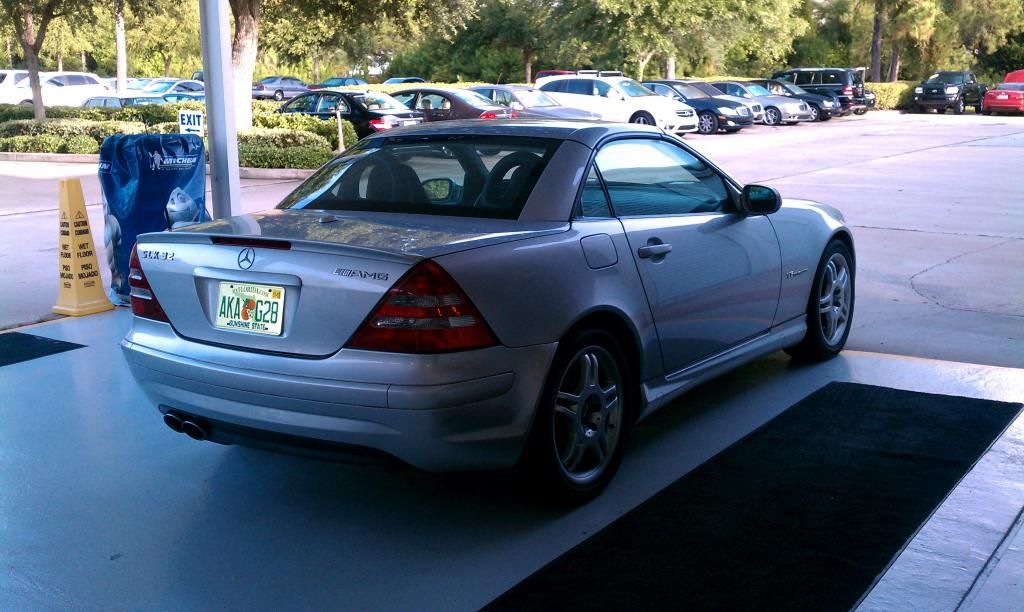 Things mechanically that I noticed on day one/on the drive back home:
1. Supercharger would lose power. This was due to a faulty and seized up intercooler pump, which I found out later was common issue with the SLK32
2. Trunk lid hydraulics were shot. Trunk lid wouldn't stay up. Easy fix by replacing the trunk gas shocks
3. Ashtray won't stay retracted in the center console (had to replace the ashtray and storage pocket in the center console)
4. Front driver's tire was mounted backwards from intended rotation (the "outside" indicator was on the inside) - thanks to a forum member for pointing that out to me!
5. Passenger front WHEEL was mounted on the passenger REAR location, but it was wearing the wider rear TIRE.
6. Adversely, passenger rear WHEEL was mounted on the passenger FRONT, but wearing the narrower front TIRE. (bear in mind the SLK32 comes from AMG with a staggered setup)
She needed a couple of things right away: a leaky hose fitting somewhere and all fluids changed and flushed.
Whomever did the tire "rotation" clearly did not know what they were doing, considering this is a car with a staggered setup and a directional tread pattern. And funny that the dealer didn't notice this during their checkup.
The dealer came back with a laundry list of things totaling over $4000 for repairs - everything from leaky gaskets to "all my bushings need replacing". I did the oil change at the dealer, only because they had already started it before the service advisor called me about everything. I declined the rest of the repairs and opted to get a second opinion a local independent repair shop for the other items (glad I did). The indy basically told me that the dealer was smoking crack and showed me everything that the dealer pointed out, explained why it didn't need work, and fixed only the items that needed it - including one worn hose somewhere and a complete fluid flush of everything and the transmission service, which helped the feel of the car immensely. So lesson learned: If it's out of warranty, always go to an independent repair shop!