Hello fellow members!
Finally I came up with the problem of idler pulleys. It seems to be a common failure due to bearings. Oh well, 150,000 miles. I can understand that :smile:
There is 1 idler pulley and 2 tensioning pulley but I'll refer to them as simply "idler pulleys:.
My description of the problem is posted here:
http://www.slkworld.com/slk-r170-general-discussion/206394-slk-230-weird-grinding-noise-possible-water-pump-failure-advice-needed.html#post1793049
Also, some members reported their pulley failures here:
http://www.slkworld.com/slk-r170-general-discussion/91273-230-belt-tensioner-replace.html
http://www.slkworld.com/slk-r171-general-discussion/21316-squeek-squeek-no-i-aint-got-bird-there.html
I found a good DIY on Pelican Parts on how to replace idler pulleys and tensioners:
Pelican Technical Article - Mercedes SLK 230 - Replacing Your Belt Tensioner
Update: I managed to replace all my 3 idler pulleys! It's a relatively easy job and took me about an hour for all 3 :wink: I must say what a difference it made!!! Really, now I realized where all my whining noises came from! My sweetheart is a lot quieter!!! I would strongly recommend replacing all 3 pulleys and a shock. Well, the shock itself didn't fail internally (at least mine), what failed is the rubber grommet on the shock (or whatever you call it).
The original pulley on the car are made by INA. So I got my parts from RMEurpoean. Same OEM INA pulleys but a lot cheaper than from the dealer ;-)
Tools you would need:
1) 8, 10mm, 15mm sockets
2) CR-V6 Hex bit
3) Torque wrench
4) Possibly a container to drain coolant.
5) Possibly a star bit set (40 bit if I'm not mistaken)
Now, you have two options - you can drain the coolant since if replacing all 3 pulleys we will need to remove radiator fan shroud to access 2 left ones. Or you can be lazy as me and simply disconnect small top hose from the coolant tank and simply plug the hole on the engine with some rubber or I used shooting earplugs :smile:.
New pulleys: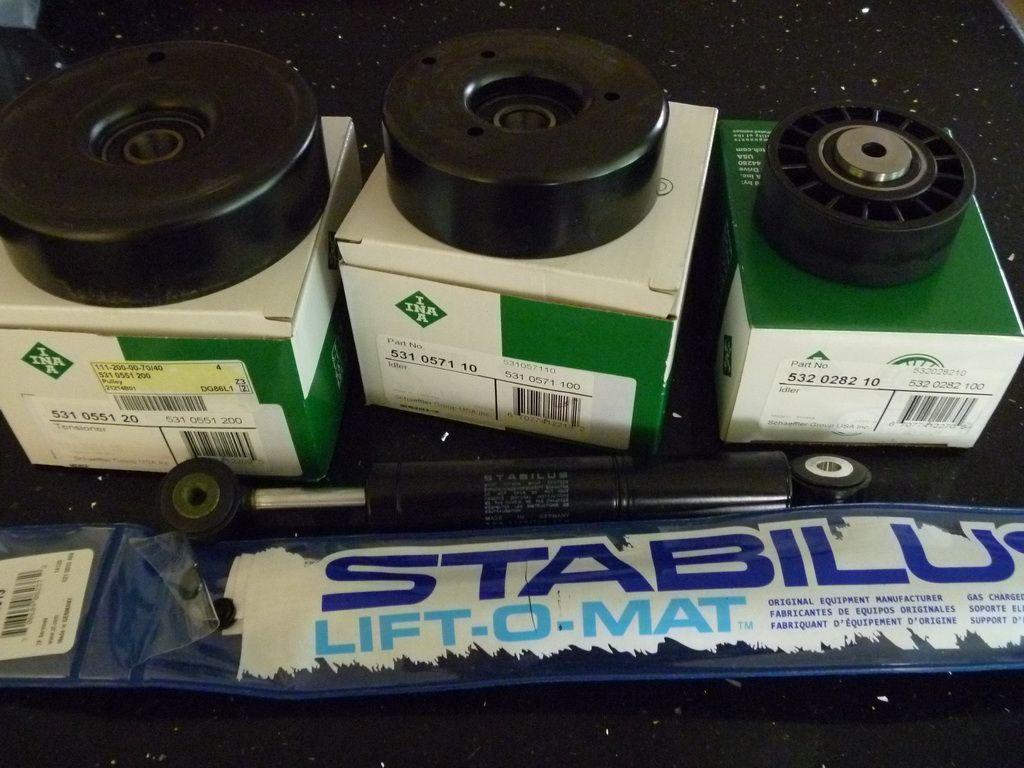 Remove
To remove the radiator fan shroud, and coolant tank please see these threads:
http://www.slkworld.com/slk-r170-class-diy/48577-how-replace-change-c-condenser-slk-230-a.html
http://www.slkworld.com/slk-r170-class-diy/177193-how-change-replace-coolant-tank-slk-230-a.html
Next, you will need to remove 2 serpentine belts. Please, check this thread:
http://www.slkworld.com/slk-r170-class-diy/31331-how-remove-replace-2-serpentine-belts-r170-230-a.html
Now simply pop the plastic caps on the pulleys with something like a flat-head screwdriver. Be careful of the fragile plastic. Be patient and proceed slowly not to break the caps. Then, use 15mm socket to remove bolts holding right and left tensioning pulleys. If you're replacing a shock absorber, then you will need to undo 2 screws with star socket. Before unscrewing them, you want to secure the tensioning device with a pin (I used small screwdriver that fit the whole).
Here's a picture.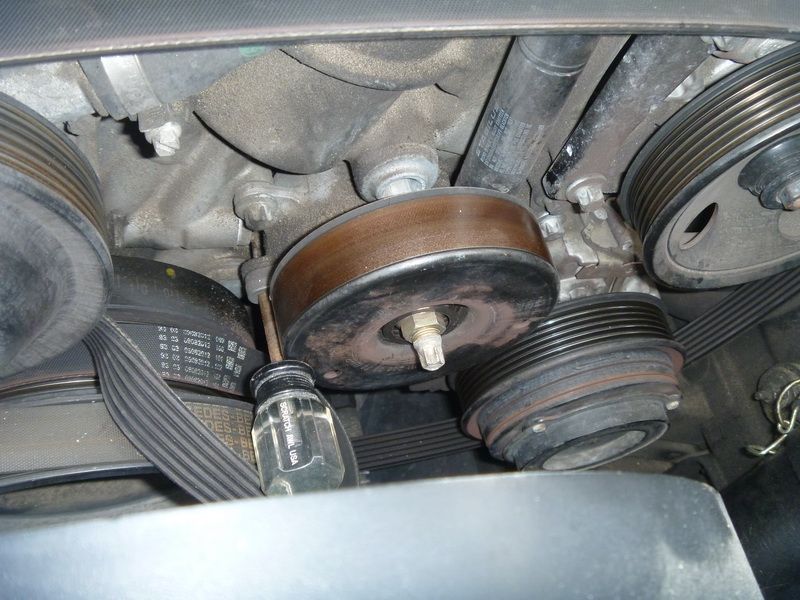 15mm bolt: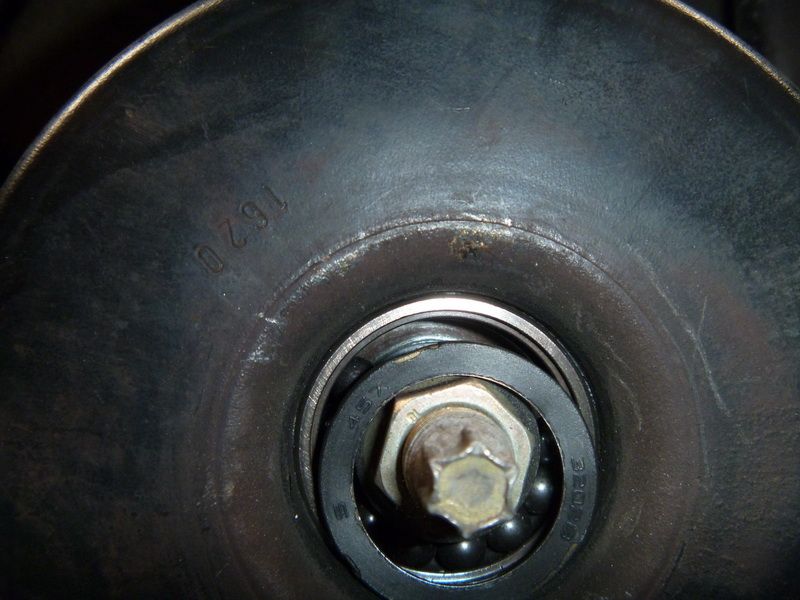 Shock absorber:
Shock absorber removed: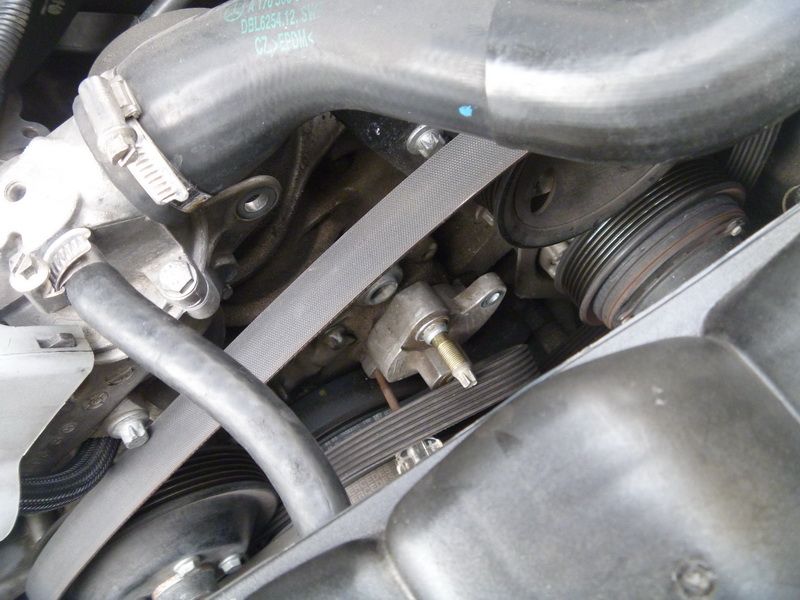 Get your new pulleys, put them back in and screw the bolts with 25 Nm of torque.
Two left pulleys:
New idler pulley made by INA in Slovakia (absolutely same as OEM!)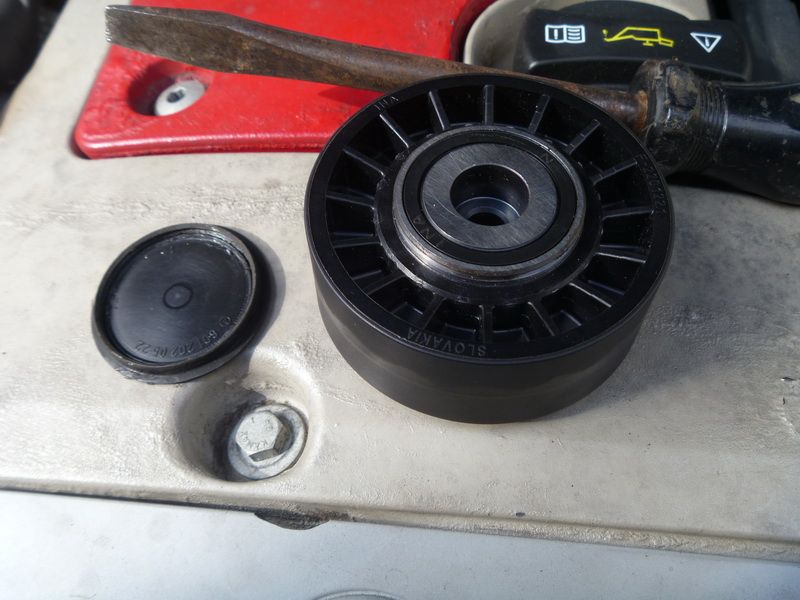 The upper left idler pulley is secured with CR-V6 bit. simply undo the screw, put new pulley back in, put the screw back in, and the plastic cap.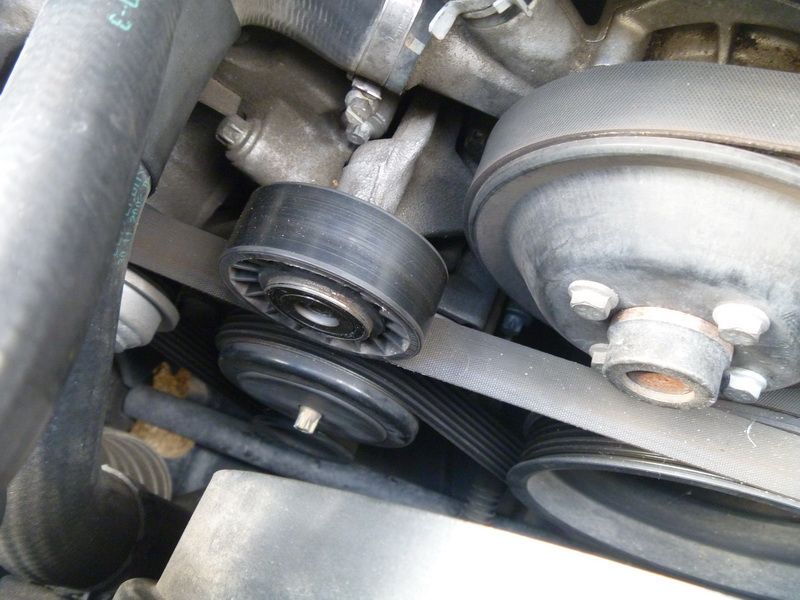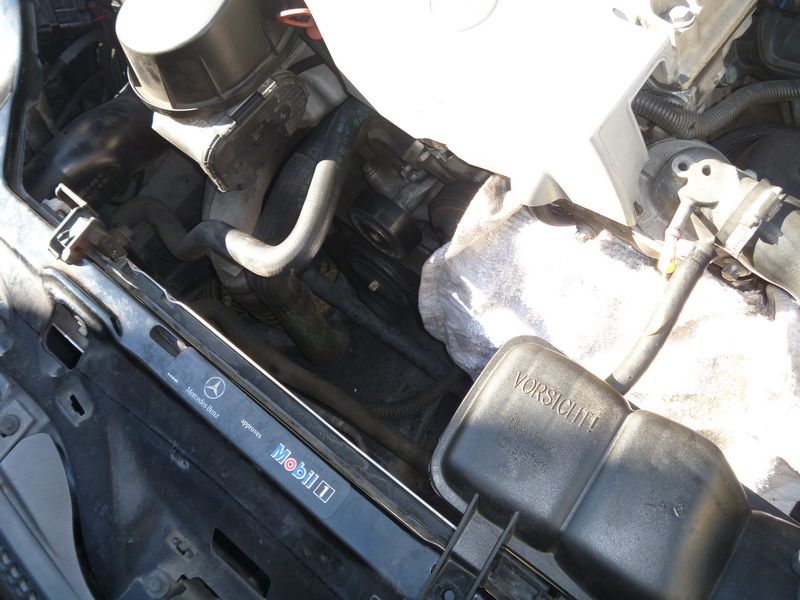 Belt tension released: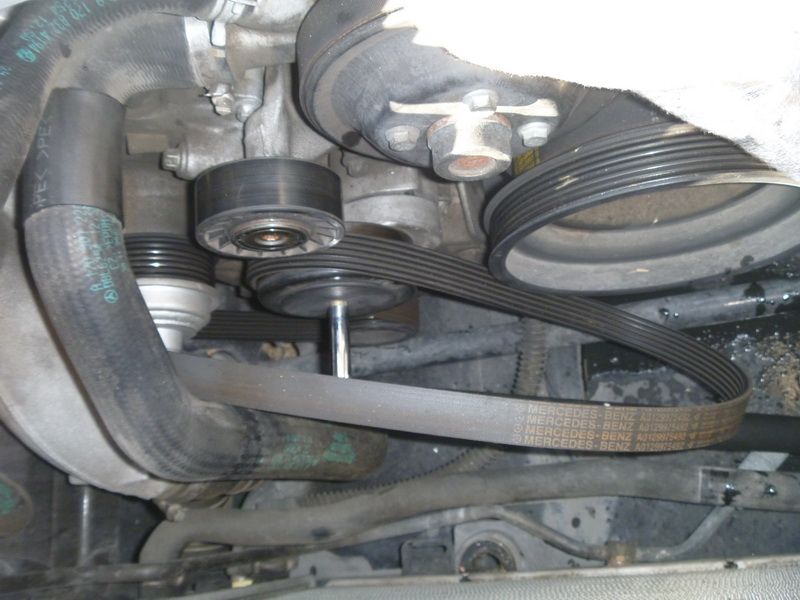 Old vs new. Old on the left, new on the right. See the INA writing on both? =)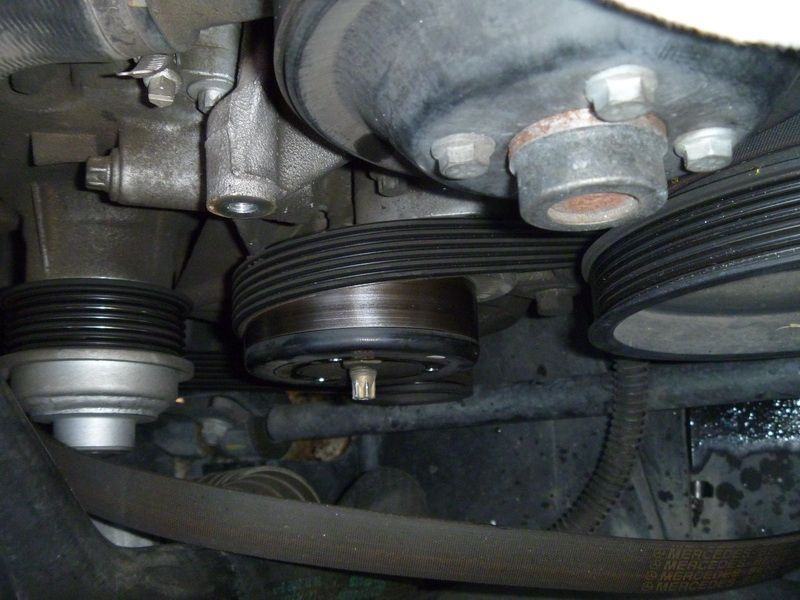 Again, old vs new by INA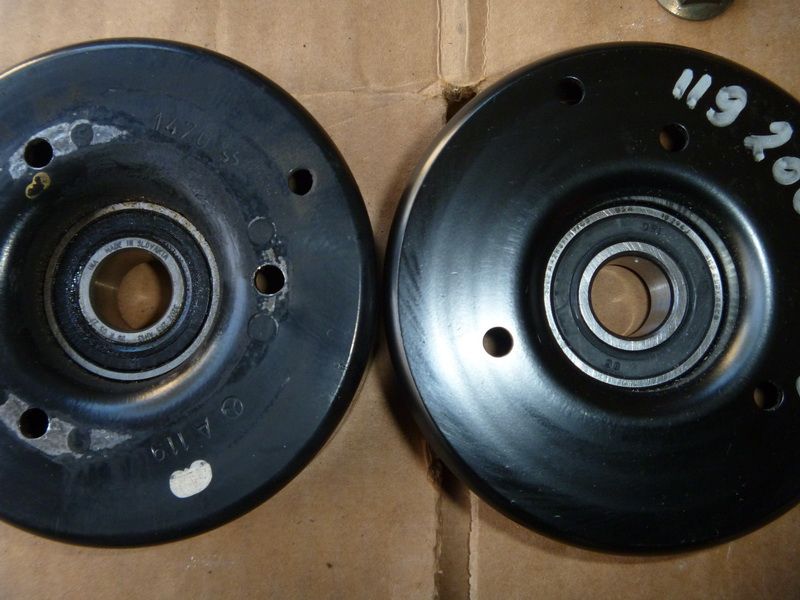 Both pulleys removed: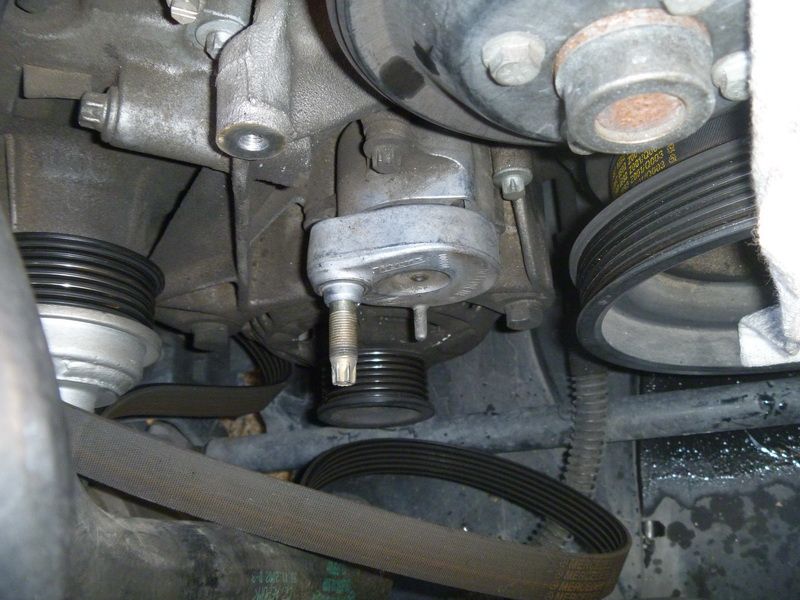 New pulleys installed: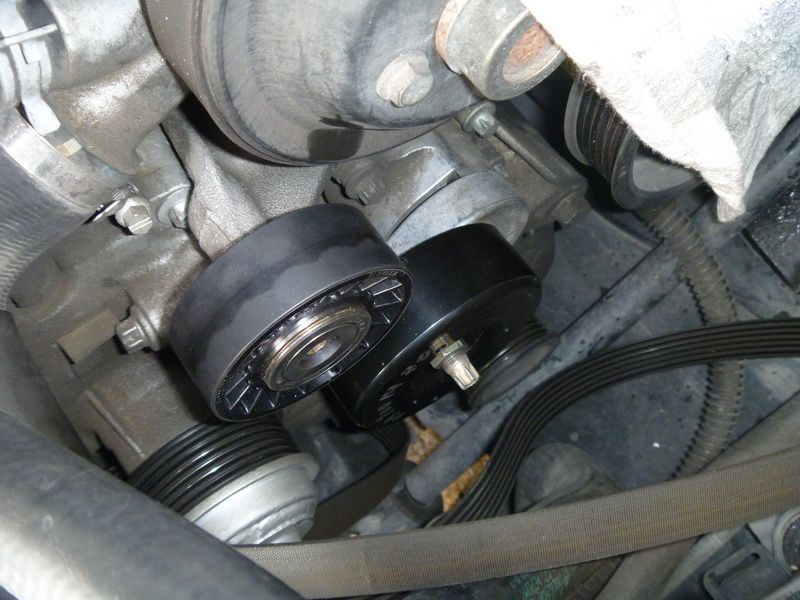 Serpentine belts are in place: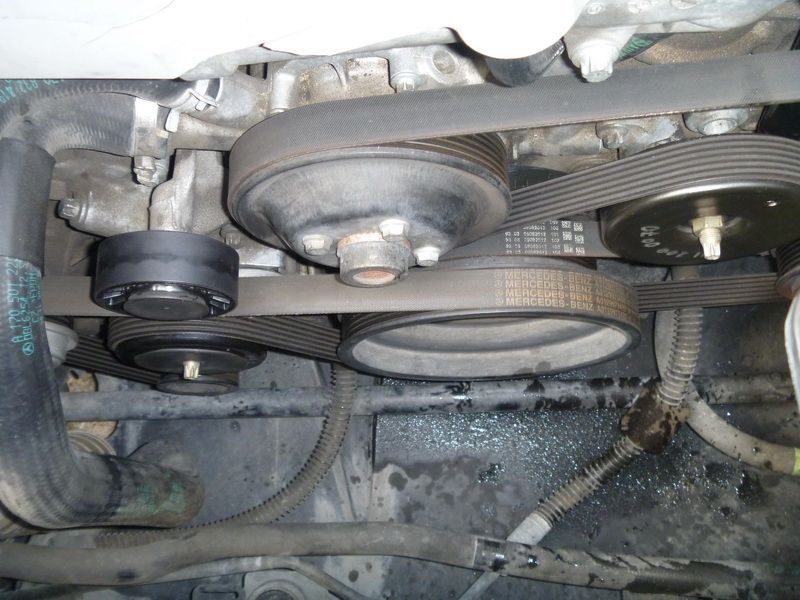 That was easy, right?! Don't forget to put serpentine/poly-v belt back in, fan shroud and
refill the coolant if you drained it
!
That's it we're done here! Now my car is a LOT quieter! :grin: