Discussion Starter
•
#1
•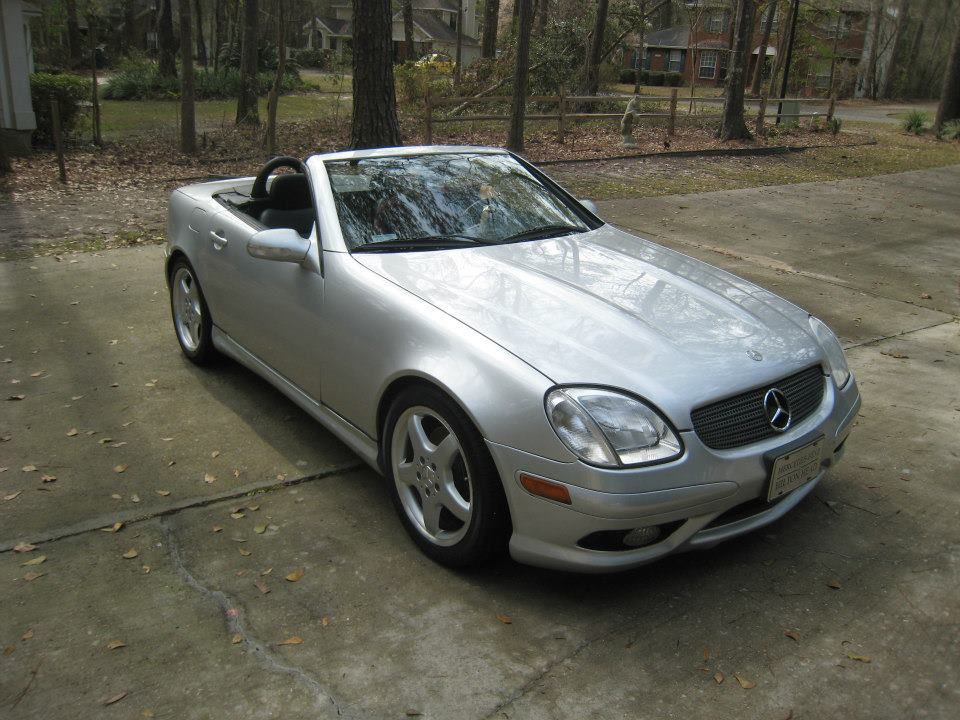 Well, I am now entering week number two of ownership of my '02 SLK320 and must say, despite the weather; rain the first 4 days and sub 50-degrees temps the last three, I am enjoying the car immensely.
Since I got my car from a MB dealer prior to them doing the customary dealer refurb., which general equates to about a $1200-$2000mark up on the price, I got a pretty good deal on the car. And while it does need some TLC, I am realizing that I may have just bought the perfect car for me if I wanted a project that I could tweak and clean on the weekends and then easily and reliably jump into on Monday morning and drive to work without issue.
This week I am hoping to get the parts needed to replace a leaky valve cover gasket & replace two radiator mount ; while I am under the hood will do both of those services, as well as run through all the fluids and remove and reinstall them all (brakes, tranny, oil, etc).
The first big change I did this weekend, which again was pretty simple was to replace a wheel.
The car when I bought it for whatever reason had one aftermarket wheel on the rear right side, which looked like the AMG 17-inch wheels that came on the car, but was missing the engraved AMG logo on one of the 5-spokes.
After finding a reconditioned one on ebay last week, I was able to install the new wheel and am again running a set of original factory SP1 package, AMG wheels. Albeit I did run into a problem in that the aftermarket wheels used short wheel bolts than was stock and had to make my first retail purchase at my local MB dealer to buy the "gold-plated, diamond encrusted Mercedes Benz official wheel bolts, at $7ea. I also removed all four wheels and cleaned and scrubs 11 years' worth of grime off the inside of each wheel and cleaned the brakes.
I also ordered and installed new rubber mats to replace the woarn carpet ones that came in the car. I next took liberty with the aftermarket Pioneer CD player that was in the car when I bought it and while I would like to find a period OE Mercedes CD player to install, or one of the nice Becker Indianapolis Pro pieces, I tossed in a Blaupunkt Toronto I had which gives me connection for my ipod as well as Bluetooth hands free for the cell. Cosmetically it is better than the Pioneer, but sticks out in the dash to much for my taste and doesn't match the mat finish of the rest of the car's plastic buttons. It is a glossy texture…
All-in-all I am pleased with my car and am hoping to drive it this weekend over to the 18th Annual Amelia Island concours. About a 2 and a half hour drive for me, but worth the effort to attend when I have time.
Outside of making sure the car is 100% mechanically sound, I do need to fix a few cosmetic things which unfortunately aren't going to be cheap if I want to do them right. The front center grill insert that came on the AMG bumper is missing and unless I make my own, will cost me almost $200 from every source I have found. Also the interior rear view mirror is damaged and needs to be replaced which will be another couple hundred dollars as well, since I have the auto-dimming feature.
On my list of upgrades to look into are maybe an exhaust, or some sort of resonator removal (if there is one) to get a little more sporty sound out of the V6; I also am playing with the idea of a C32 brake upgrade as well, but am having a hard time finding information specific to the R170 SLK with the 17-inch AMG 5-spoke wheels and whether or not they will fit the upgraded calipers of the C32.
Finally, and not a big deal right away, but since the car came from a state that required a front mounted license plate, and here in Florida we do not need one. I have four pesky screw holes in my front bumper that need filling and painting over. I have yet to decide if I will attempt a repair myself, or pay a professional to do it. While I am pretty good with a paint gun, it will cost me almost $100 for the supplies and I might be able to find a local shop to do it for only a little more. After that, its refinishing the OE wheels to all match and repair some curb-rash and I should have a great weekend fun car.
All in all, after two weeks I couldn't be happier. Now it's time for a real photo shoot and for me to take some real pictures of the car...