Discussion Starter
•
#1
•
INTRODUCTION
I am about to endeavor on a path that I have said that I was done with, but as anyone who has been bitten by the custom audio bug knows, It is hard to let good lines go to waste. One of my mechanic buddies told me it was a record for me, having purchased my 02 SLK320 in March and it now being November. He thinks it is the longest I have ever gone without tearing into a car. I reminded him however that I removed the old Pioneer CD player the previous owner installed, two days after bringing it home. He indicated that did not count.
What am I rambling about? Well, I am an old school car audio guy. Being a product of the 1980's I was one of the early competitors in an organization called IASCA (international Autosound Challenge Association) and was one who embraced the sound quality over sound quantity mantra. The interest and experience I garnered during competition went to fuel a life time of interest in music and fine audio, which ultimately pushed me in to Home audio and home theater, a passion that I still enjoy today and find myself slaving each and every day in an office job trying to pay for.
http://s218.photobucket.com/user/jbcon2/media/SLK%20Audio%20Upgrade/scan0001_zpsc528601a.jpg.html
1988 IASCA Florida Regional Finals (Gainesville, FL)
Bottom-line, I love good sound but when it comes to my cars, I also get a very high degree of satisfaction in building great systems that look as well as sound awesome. The creative aspect of it probably is why some of my friends say I enjoy building the stuff more than I do listening to it. Which to be honest is hard for me to argue against. There is something to be said of those late nights coming in from the garage covered with wood shavings generated by a turn at the table router.
Why am I starting a post off like an autobiography you may ask? Well, after eight months with my beloved SLK, which includes many days and nights of just staring at the available space and locations of existing audio components something clicked and I am now jonesing to build something new and my wife will not let me within a mile of her GLK.
As an enthusiast of both cars and "tasteful" customizations of them, as well as a story teller of sorts; an annoyance probably to some and something I am sure is becoming obvious to those who actually sit down and read this post. I wanted to share my quest as I go in the hopes that I may inspire others to look beyond the Boom-car aesthetic which has come to highjack an industry which I have always loved.
Not just a how to, or thread of post to share with fellow SLK owners of what they can do to their car, I am hoping that possibly I may both find and help illuminate others who appreciate fine music and the experience that it and the open road can bring. While at the same time, putting to bed any myths that car audio is and has to be about who can disturb their neighbors the most with loud, annoying bass beats coming from the trunk.
POINT OF THIS POST (THREAD)
In the posts that follow, I will attempt to explain my passion for sound; what I feel makes for good sound and how to achieve it in the confines of such a small vehicle; and offer the tale of my adventure as I work to create a personal studio on wheels. While it would be easy to hand the car off to a shop and an installer with far more experience and tools than I have. I do not have the budget, nor do I wish to throw thousands of dollars at a car that is not worth as much as the stereo.
My efforts will be to build a great sounding system, with an exceptional installation of components that are not over-the-top expensive or will break the bank. I am not a professional, but an enthusiast and I neither work in the car audio industry nor have access to anything more than my own two car garage.
During this process I will be driving the car on a daily basis so it will not be off the road for any period of time and due to resource limitations I reserve the right to leave vast spans between updates while I either work to pay off the yet to be purchased components or work to repay my family for late nights spent in the garage.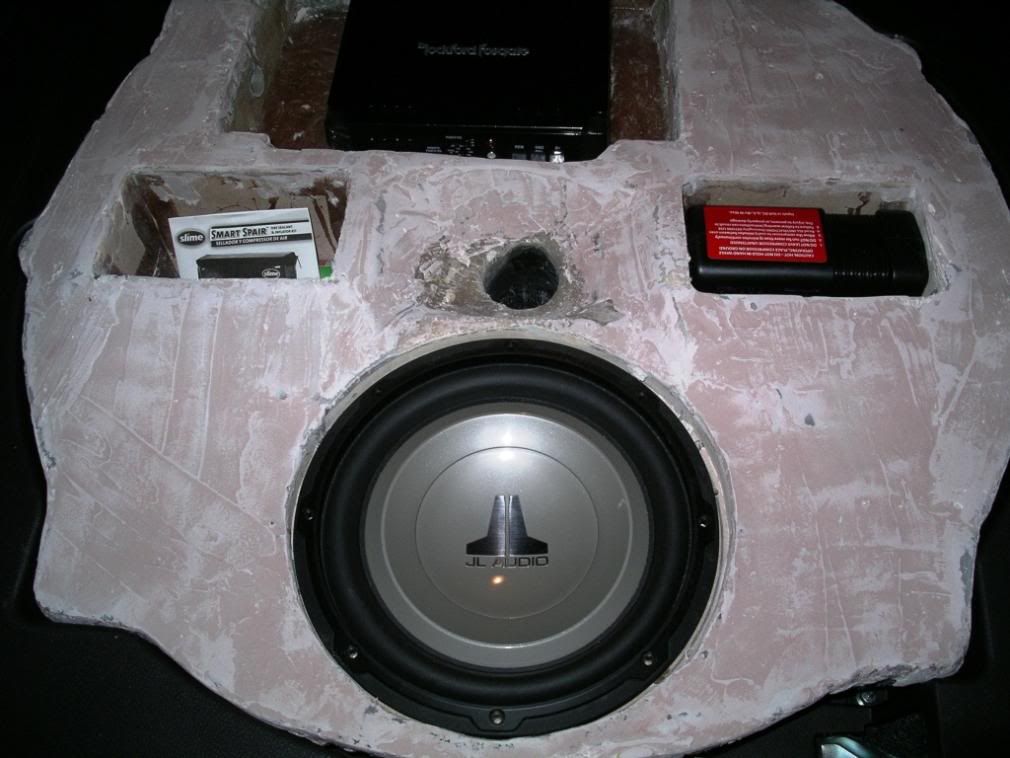 Previous work: Custom spare tire (2008 G37 Coupe)
While my style of writing is more akin to a blogger than what one finds in an online forum, I am hoping that at least one person will find my style entertaining and possibly one more even find it useful. And while there may be differences in taste, appeal and even appreciation of different aspects of the car hobby and what I am intending to do. My goal is to try and offer some insight, methodology and ideas for others who might be wanting to do or maybe hadn't even considering, doing something similar.
So, welcome to Project: #GotNoRoom4Audio…. Or my R170 SLK Custom Door Pod build project as the title calls.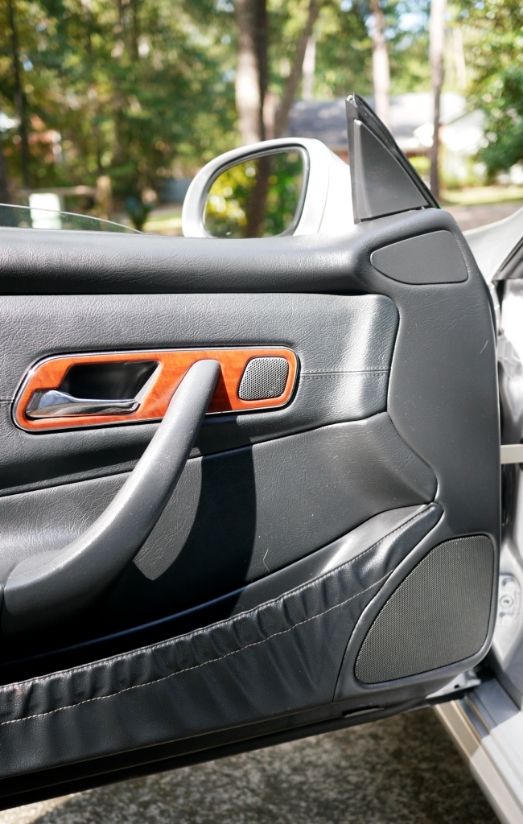 02 SLK320 Factory Drivers door panel
…more to come