Discussion Starter
•
#1
•
I am one who frequently does project logs for other forums and projects that I do. More specifically, I build and design custom computers and share my build logs with others who share a similar interest. Those project logs tend to follow a specific format that may be a little different than what most would usually find on an automotive site. Such Project or Build-logs are done as the project moves along with updates coming as the project progresses instead of one big thread after the fact. This allows for input from readers as the project progresses and in some cases suggestions on alternative ways one might be able to progress or move forward with the project. What follows is a DIY I recently started using that format. Since I am more or less making things up as I go, I encourage constructive input and suggestions.
**************************************​

​
PROJECT OVERVIEW​
A couple of months ago I bought a 2002 SLK320 with the AMG 'Appearance' package on it from a dealer in South Carolina. The car had been wrecked at one point in its life, but having been driven almost 40k additional miles since that incident I felt comfortable that at the price point I was able to get, it would serve me as a fun weekend car that would offer more than enough DIY projects to keep me busy this spring.
Not directly related to the accident (I don't think), it was missing the lower mesh grill insert from the front bumper. It had obviously been off the car for a while since I found over spray from the bumper repair during the original accident on the retaining clips that had broken off in the bumper.
Upon looking around at various online part sellers and discussing with several dealers, I quickly realized that these grills were made of that rare metal compound known as "GermanCar-oem-ium". At almost $300 from the dealer and over $200 from almost all online sellers the center grill alone for me to replace was going to more than I was willing to pay for a cosmetic piece at this point.
Being a DIY'er at heart I decided to see what I could find to replace the grill or repair it from other sources. While searching online I came across a sheet of metal mesh that had a pattern nearly identical to that which was used by Mercedes/AMG when designing the original grills. Since my two outer inserts are still intact I was able to use them to identify a comparable /alternative replacement.
While not identical to the OE mesh, it is similar enough that if I replace the middle grill it won't look to off and my plan down the road is to rebuild the outer ones to match and place them into storage for when I either sell the car, or can find an original replacement off a wrecked/salvage car or at a more reasonable price. The biggest different is the size of the openings and the material is slightly thinner than the original stuff.
THE PLAN
My plan is to cut out a template from regular poster board and from that template, cut a mockup of my final idea out of a sheet of fairly thick picture matting material I purchased at a local hobby store. The sheet (as seen below) is two feet by four feet and cost less than $8, with a 40% off coupon I only paid about $4.80 for the sheet. The poster board I had left over from another project, but buy them regularly at Wal-mart for under $1.
After I get the mockup as I want it, including creating ears and or trim to mount the grills. I will transfer my template/mockup to the metal material and start cutting. I am hoping the whole project, including reworking the left and right side pieces won't cost me more than about $75. Below is the breakdown of what I have spent so far.
12" x 48" Sheet of Metal Mesh . . . . . . . . . . . . . . . . . . . .$25
Bx of Mercedes Bumper Fasteners (12) . . . . . . . . . . . . . .$18
24" x 48" sheet of photo framers mat . . . . . . . . . . . . . . $4
Sheet of regular poster board . . . . . . . . . . . . . . . . . . . . .$1___
Total
$48
This may or may not be an exercise in futility. I have no clue how it will work and whether or not it will look right or not. That is the danger of doing a DIY post in this format, I may go from hero to zero in a matter of minutes if I cut something wrong or mess up. I reserve the right to come back and edit the post later and might, if so desired revert things back to a more traditional DIY format. Since I won't know until I get to that point how well it will actually work or turn out and anything can happen, I encourage you to join me on this little adventure. So as we say elsewhere. Sit back, hang-on and grab refreshment while we get to it.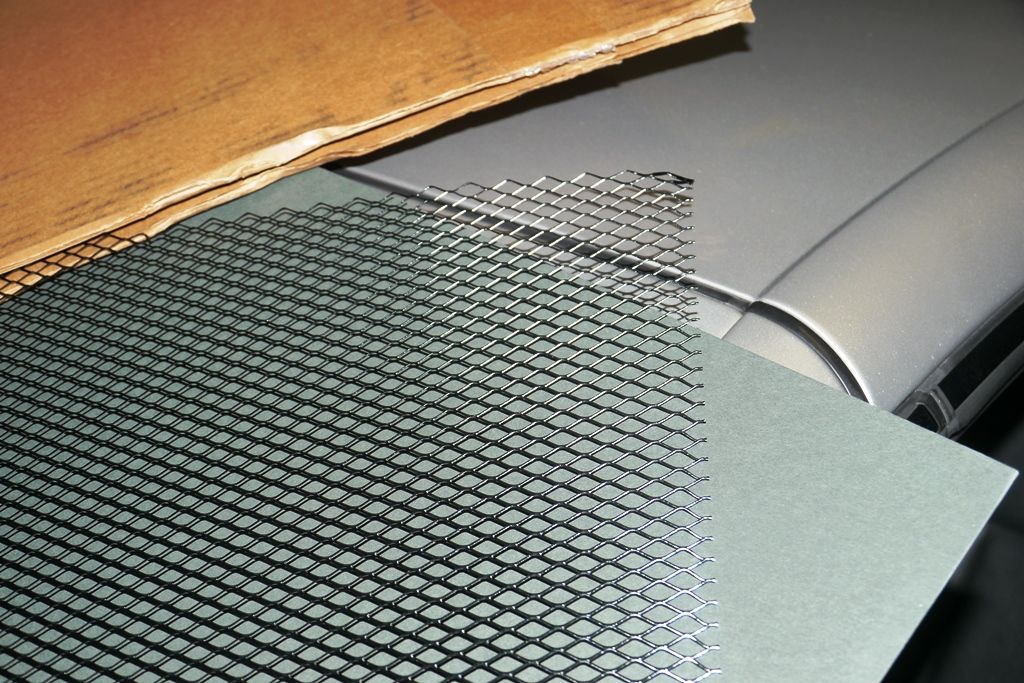 ​