Discussion Starter
•
#1
•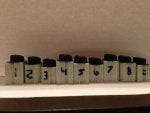 Not sure if this would be of any help , but it is the least expensive fix for your head unit buttons. Apparently they are not available and a head unit swap is about $3600. The unit works fine but looks bad. To refurbush at a non mb site is $500 plus shipping. This fix less than 10 bucks but labor intensive.
1) R&R head unit, this can be found in DIY section .
2) Remove 7 screws from back to remove black face of unit. It is press fit with metal tabs so gentle pressure is needed .
3) On the underside of the face piece there are 2 rubber stopper sheets, these go over the buttons. This gives the buttons their recoil and make contact with the circuit board. These may fall out( mine did) when you take the face off , but it is self explanatory. There are 2 black frames that are held in place by 1 screw each, they hold the buttons in. Remove them.
4) The buttons will all come out. They are all different heights and angles and must be put back in the same position ( so mark them)
The buttons are illuminated from behind this posed a problem that I could not overcome. After sanding them I placed the numbers, painted with enamel, The thought was to peel off the number then shoot with clear. The paint bled under the number and being so small , removing them was to difficult. So I shot 3 coats of black, applied the numbers, then 4 coats of clear. The buttons are smooth,you cannot feel the stencil. Then everything back together.