Discussion Starter
•
#1
•
Just an update on Bosch batteries for the R170. When the battery died in my 2003 SLK320 in late 2014, I read some threads here and based on that info opted to buy a Bosch battery, part number 48-690B, which had been recommended in those threads, some of which were pretty old. This battery, as you can see, was sized as "Group Size 48", and was spec'd at 690 cold cranking amps (CCA):
This battery has been great so far. So, when the battery died a few weeks ago in my 2001 SLK230 (yes I have two R170s), I went to buy the same battery, only to find it had been discontinued. The battery that has apparently taken its place in the Bosch product line now has part number H6-760B. I'm not sure about this, but it looks like battery size naming conventions have moved from a group number to some sort of "H" number...the new battery is sized as "Group Size H6/L3 (48)", and is spec'd at 760 CCA:
And, a shoutout to Interstate, who made the battery I inherited from the previous owner in the 2001 SLK230...their MT-91 Mega-Tron II battery, marked on the lid as a 75-month battery, lasted nearly that long, about 70 months based on a sticker on the battery indicating the install date prior to my ownership, so hey, not too shabby. Here it is; notice it is spec'd for 550 CCA: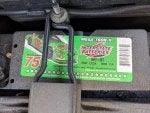 I can only presume that battery technology has been improving, with the increase in CCA from 550 to 690 to 760 in the batteries purchased in 2011, 2014, and 2018. Most of the batteries available now seem to have similar specs so I don't think it's just that I'm buying better batteries. My recollection (which I haven't verified) is that the original OEM batteries had CCA of 490 or 500. By the way, I didn't really consider the AGM batteries, so that'd be another variable to look at if you're considering a new battery purchase; it seems they don't command nearly the price premium that they used to.
Anyway, the new Bosch battery has been solid, although I've had it for only a full week. In case anyone is wondering, the dimensions of the new Bosch battery are ever so slightly bigger than the old one, but it fit into my vehicle with no problem.
Cheers,
Rich