·
Registered 2002 SLK32 AMG
Hello everyone! I just wanted to take a moment to share my experiences and some information that will hopefully help someone out in the future, should they decide to upgrade their rotors and pads on their SLK32. Forgive me in advance, as this post may (ok, will!) get a little long-winded. As I write this, it's been a very long day and my brain isn't letting me put this story into words very well :grin:
Ok, here goes: My beloved SLK32 was due for front brakes a couple months ago, so I decided to upgrade to ceramic pads and slotted rotors. For pads, I chose Akebonos due to the positive reviews I've read on them, and the reduction in brake dust which is ever-present on German cars was of great appeal to me. Now, one of the downsides of ceramic pads is their lack of 'bite' when cold, so I decided to go with slotted rotors to help alleviate a potential issue.
Now, having done my research, which presented limited choices, I ordered a set of Stoptech slotted rotors (P/Ns 126.35054SL/126.35054SR, listed in their catalog as fits the SLK32) and the Akebono pads (EUR682) and awaited their arrival. I received them, and went about installing them. Here's where things take a bit of a turn- the Stoptech rotors were drilled for the wrong bolt pattern! I double-checked the drawing Stoptech had for them online, which was correct, but the actual part was different. All the actual photos I've seen of these rotors (Needswings website comes to mind) match the rotors I received. I'll post a couple photos illustrating the difference:
Stock rotor (Note the location of the retaining screw vs. the lug holes):
Stoptech rotor (Once again, note screw hole vs. lug orientation, screw hole is in correct location vs hub):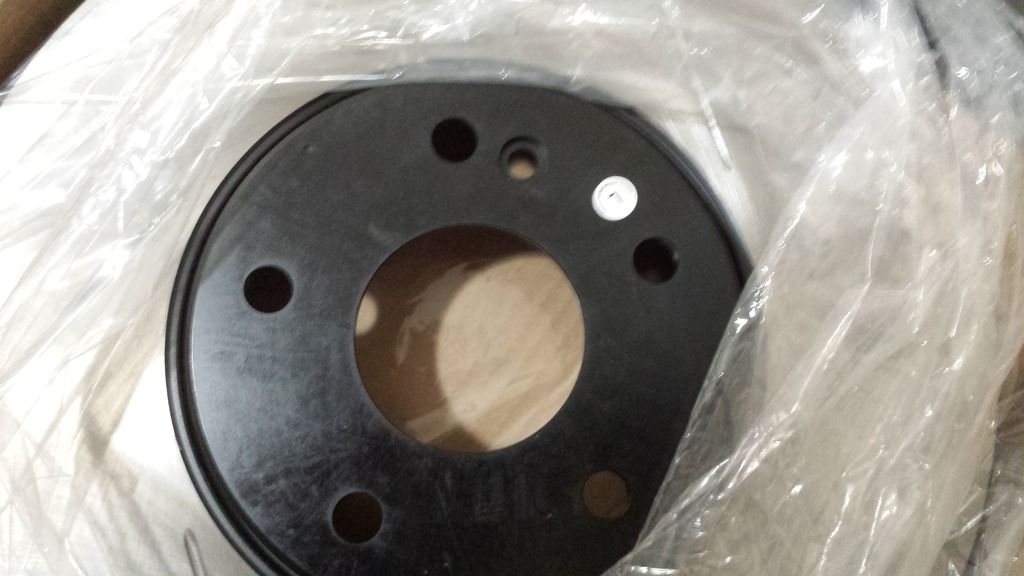 Quite a difference! Now, the hard part- Stoptech only deals with their distributors, so there's no e-mail address or hotline to call to make anyone at the company aware of the issue. So, the only option that they give is to return the parts to the distributor for a refund, which I promptly did.
Now, what's the solution? As luck would have it, I came across a company called R1Concepts in my research. After e-mailing them about my previous dilemma, they double-checked the fitment for me, and I got them on the way. Another photo, and you can see that they are of great quality, and more importantly, fit correctly!
I now have over 2,000 miles on this braking setup, and the rotors/pads have performed flawlessly. One important thing to note about the Akebono pads: they are super quiet, stop the car well, and hardly dust at all compared to the MB pads. There is a trade-off, however. You will notice that there is less overall 'positive' feel on the pedal end, it will feel a bit spongy unless the pads are hot, but this is a characteristic of all ceramic pads. They are also very gentle on the rotor, after 2,000 miles I can still see the crosshatching on the rotors, which would have been long-gone with semi-metallic pads.
So, in closing: The Stoptech rotors are the wrong ones for our cars, don't make the mistake I did! I hope somehow, someway this helps out one of my fellow SLK32 owners that are looking to upgrade their rotors. I wish there was some way to inform Stoptech of the issue, as the rotors themselves were of very high quality. However, the R1 rotors are very nice as well. If you've made it this far, thank you for reading my long post, and good luck with your brake upgrades!