Hi All,
I am trying to boost the antenna signal of my R171 originally equipped with a A 171 820 00 89 amplifier.
I purchased a used A 230 820 12 89 module as it seemed to be a reasonable suggestion.
I would need some help in figuring out how to connect the new module: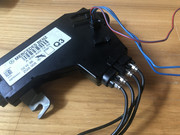 The 3-wire power connector is identical.
There are four shielded cables out of the connector with cut cables: they have black, yellow, red, and blue ribbons, respectively.
On the other side (left in the picture and not shown) there is another 4-pin connector as the one on the right (no cut cables came with the module and one of the pins is blind).
Any help in what to plug to the trunk antenna and to the head unit connectors?
Thanks!